This was a burning question in my head in September 2021 but didn't have much luck googling it. Here's our experience and analysis of Small Business Awards by Corporate Vision. Read on to find out whether the awards handed out by Corporate Vision awards truly are a legit or not.
How did we hear about Corporate Vision?
Corporate Vision contacted us in September 2021 announcing us that we were nominated as candidate for being the best company in the 'IT Infrastructure Management Specialists - Finland' category for Small Business Awards. At that time (before this blog post) there was very little information online about Small Business Awards or the company behind them. What I learned at that time was that they seemed to be a so-called 'vanity award', where winners have been preselected and everything else was just for show. We could not be absolutely sure about that then, and we thought that "winning" might have some marketing value, so we decided to play along and see where it leads us. I will first go through the process, then I'll try to give an answer the question in the title.
How the selection process started off
The emails Corporate Vision sent us had this to say about the selection process:
Our merit led selection process narrows down nominees in order to seek out exclusively the very best that the Small Business industry has to offer on a global scale.

Email, early September 2021
Moreover, on their website they say this:
For the 2021 Small Business Awards Corporate Vision Magazine will leave no stone unturned when establishing those who truly represent the sheer determination and dedication it takes to establish, run, and grow a small business successfully!

https://www.corporatevision-news.com/awards/small-business-awards/
This gives the process the appearance of a competition based on merit. If you've worked hard to build up your company, like we have, you're of course inclined to believe that maybe they've genuinely done their research and reached the conclusion that we really are worthy of such recognition.
The first step in the process was to accept the nomination, which did not cost any money or time. Soon after that they requested supporting information:
Over the next few weeks our in-house research team will be compiling a case file for submission to the judging panel in order to determine who will be successful in this year's awards.

At this time, we would like to give you the opportunity to provide supporting evidence to help us build your case file. By clicking the link below, you will be taken to a short survey - compatible with PC / Tablet / Phone - with some standard questions we would like you to answer. Completing this survey is entirely optional and not doing it will not impact your nomination in any way, however it is a great opportunity to provide us with information we may not find in the public domain.

Please click here to submit supporting information.

The deadline for supplying this information is Sep 22, 2021.

If you have a specific document that you would like to submit; media packs/ brochures press packs then please feel free to email this across separately in an email or mail to 2nd Floor, Suite F, The Maltsters, 1-2 Wetmore Road, Burton-on-Trent, Staffordshire, DE14 1LS.

Email, 15th September 2021
I will get back to that address later as it turned out to be quite relevant for the purposes of this article.
We won! Or wait, did we?
On September 20th we received an email announcing that we had won the contest! This was in fact before we had sent them the supporting evidence they had asked for...
On behalf of Corporate Vision, it is my privilege to inform you that Puppeteers Oy has been presented the following:

Best IT Infrastructure Management Specialists - Finland

--- snip ---

As one of our 2021 winners' Corporate Vision is delighted to present you with access to our Complimentary Package. This comprises of entry in our online winners' directory as well as access to the official awards press release.

--- snip ---

Email, 20th September 2021
I remember being confused about this and somehow interpreted the email as if we were selected as one of the nominees, not winners. Probably my brain tried to make sense out of the anomaly the best way it could. Someone else could have judged the whole Corporate Vision thing a fake at this point and abandoned the awards process...
My confusion didn't get any less as only a couple of hours later I received a notification about the status of the competition and a reminder to fill out the questionnaire:
Just to let you know, your case file is currently with our research team who are in the final stages of deliberating the winners for this year's Small Business Awards 2021 hosted by Corporate Vision!

If you would like to fill out the supporting evidence questionnaire to be taken into consideration, you are free to do so.

Please click here to access the supporting evidence questionnaire.

Email, 20th September 2021
So, I went on to fill the form which had plenty of questions:
Company Name
Company age
What is your primary industry?
In what region do you operate?
In which country are you based?
Please give us a brief description of yourself or the relevant person within your company.
Position within the company
Length of service
Please give us a brief overview of Puppeteers Oy and the service you provide.
With the difficulties of 2020 in mind, how were you able to adapt and persevere?
Do you have any flagship products or services?
What makes you stand out above your competitors?
If you could highlight an award-winning aspect of your company, what would it be?
Please feel free to upload any supporting documentation you feel may be relevant. In the case of multiple files please upload in one single zipped folder.
Do you have a suggested Award title?
Some of the questions, like "What makes you stand out above your competitors?", are very good and make you reflect on your business. We had internally talked about these things a lot, so we could answer them easily: had we not, the process would have been a lot more involved. It took slightly over an hour to fill this form for us - your mileage may vary.
The next day I was informed that my answers had been received:
Thank you for submitting your supporting evidence.

I can confirm that this has reached us successfully and we have added this to your case file for the judges to review when making their final decisions.

As soon as the decisions have been made, I will let you know the outcome!

I wish you all the best with your nomination and good luck!

If you do have any questions in the meantime, please feel free to get in touch.

Email, 20th September 2021
We are the winners - 'Best IT Infrastructure Management Specialists - Finland'
A week later we got email telling us that we had won our category:
I hope you are well and keeping safe.

I emailed you last week to let you know that Corporate Vision has finalised the results of the Small Business Awards 2021 and that Puppeteers Oy has been named one of our illustrious victors. As a reminder Puppeteers Oy has been presented with the following:

Best IT Infrastructure Management Specialists - Finland

This truly represents all of your hard work and dedication paying off. Our merit led selection process narrows down nominees in order to seek out exclusively the very best that the Small Business industry has to offer on a global scale.

Email, late September 2021
As noted above, we had received the same 'you won' email already about a week ago. This was before we submitted our supporting evidence to the judges on 21st September.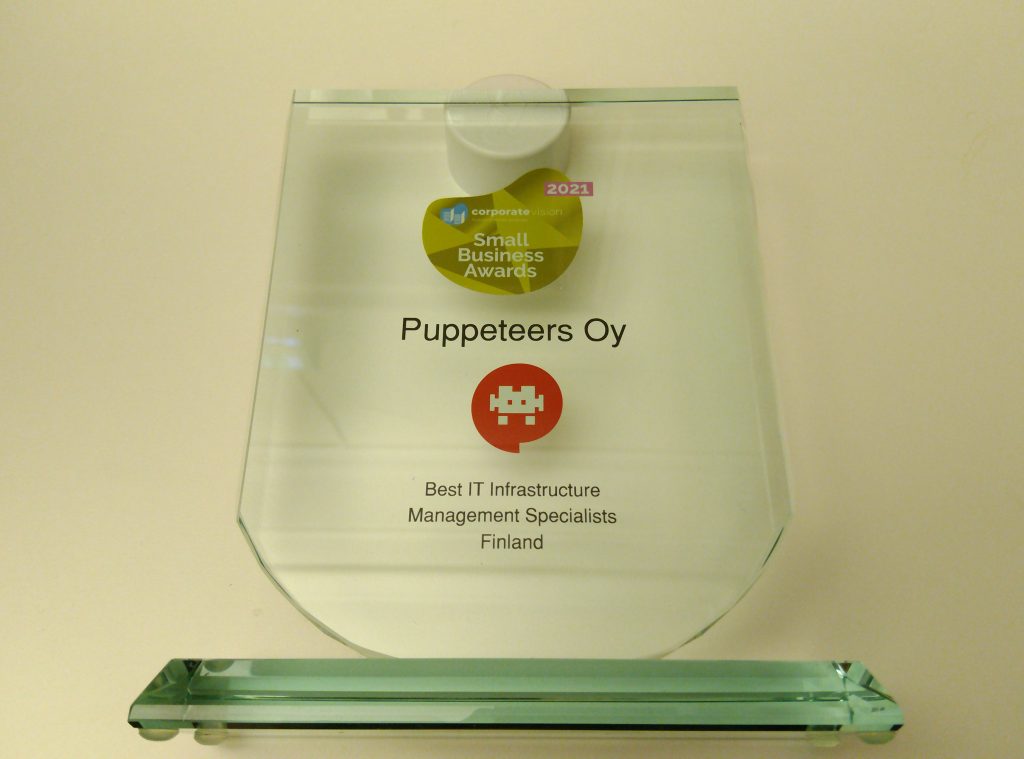 The price of the price
Anyhow, after winning things started to become more interesting as money came into play:
What happens next?

An official online announcement will take place on the Corporate Vision website within the next few months.

As one of our 2021 awardees, Corporate Vision is delighted to present you with access to our Complimentary Package. This comprises of entry in our online SEO directory as well as access to the official awards press release.

We will also publish the 2021 Small Business Awards celebratory magazine; a platform through which you can further share the news and receive much deserved industry recognition. The magazine will be digitally distributed to our circulation of 155,000+ business leaders and experts.

Should you wish to expand upon the complimentary offering, the following selection of optional packages are available to you. In true style, our front cover spread has already been snapped up, but don't worry, we still have plenty of high exposure options still available - if you would like to see visual examples of these packages you can do so by clicking the button below:

The Bronze Package – 595 GBP / 827 USD: 1 page of dedicated content, 1 Crystal trophy, Personalised digital logo + Free of charge items

The Silver Package – 995 GBP / 1,383 USD: Your logo on the front cover, 1 page of dedicated content, 1 Crystal trophy, Personalised digital logo, Bespoke digital certificate, Free of charge items

Upper Level Packages

The Gold Package - 1,895 GBP / 2,634 USD: Supporting front cover headline and image, 2 pages of dedicated content, 1 Crystal trophy, 1 Slate Trophy, 1 Wall mounted plaque, Personalised digital logo, Bespoke digital certificate, 4-Page bespoke digital brochure, 25 Hard copies of your bespoke brochure, Free of charge items

Individual Items

Crystal trophy: 275 GBP / 382 USD

Slate trophy: 300 GBP / 417 USD

Wall plaque: 300 GBP / 417 USD

Personalised digital logo: 250 GBP / 348 USD

Personalised digital certificate: 250 GBP / 348 USD

Email, 20th October 2021
Corporate Vision had crafted the offer quite well and it made us doubt less about the award process being fake. Basically you can choose the free "Complimentary package" but it boils down to one line on a web page which few if any people are likely to see. Of course you could still use it in your own marketing, but that's it. The way they make their paid packages more tempting is to tell you that their magazine is circulated to "155,000+ business leaders and experts". Essentially they want you believe that if you buy the package and get an article about your company in their magazine, the article will be placed in front of 155,000 potential customers. You then hope that some of those people would contact you, asking you to help them - in return for your usual fee, of course.
At this point I decided to try to check if this claim of 155,000 people was bloated or not. So, I went to check their social media accounts:
Facebook (https://www.facebook.com/CorpVis/)

About 5000 followers, about 5000 likes

LinkedIn (https://www.linkedin.com/company/corporate-vision-magazine)
Their social media postings are essentially abstracts of the articles they write on their blog, with links to the full text on their website. I read through some of their articles and their quality seemed pretty decent - nothing brilliant, but generally ok and useful. Their claim about "circulation of 155,000+ business leaders and experts" must be derived from the subscriber count of their email newsletter as their social media following is nowhere near those numbers.
After doing the due diligence we decided to play along and get the cheapest ('Bronze') package. We had low expectations about the marketing value, but the end of they year was approaching and we needed to spend a bit of money before the tax office took its own cut of our profits (20%). Plus having a crystal trophy in our office would be obviously nice. That said, we dragged our feet long enough to be offered a 10% discount, probably in the fear that we might not buy at all.
The next step was giving them the shipping address, billing details and all the boring stuff. After that they requested more information for the featured article in their magazine we had assigned to when choosing the Bronze package:
I hope you are well. My name is xxx and I will be coordinating the content for your inclusion in Corporate Vision. It is my pleasure to be working with you, and as Editor I am here to make sure that we create the perfect piece of content for your company.

Please find below a link to a set of questions, from which we will write your inclusion and send it over for you to review. If you could fill out the questionnaire and return it by 10 Nov, 2021 that would be super.

Please note that these questions are simply a guide to help us put together copy for you, if you feel that these questions are not appropriate or already have content you would like to supply to us then please let me know. Alternatively, if you would prefer that I write a first draft for you utilising information available about your firm online as researched by myself and/or the team and send it over for you to review and add to, please inform me and I will be happy to help.

The deadline is flexible, if you have any problems with the current deadline then please let me know and I will be happy to extend this for you.

Also, it would be great if you could send a headshot or any group/firm photos on file as high resolution .jpg or .png file formats and any logos in .eps or .jpg formats. You are welcome to submit these separately to your content or upload them via the link at the beginning of the below questions, please do let me know if these will take more time for you to obtain.

Email, 21st October 2021
The questionnaire was as follows. Contact details and such have been omitted:
To start: Please give us a brief overview of your company, your clients and the services you offer. What would you say were the driving factors behind your success so far? What are your core values? What is your overall mission?
When working on a new project or with a new client, what steps do you take to ensure that the overall outcome is successful?
Working in such a competitive industry, what steps does your firm take to set itself apart from your competition? What is, essentially, your unique selling point?
What is the internal culture in your firm? How do you ensure that all of your staff are equipped to provide the best possible service to your clients? What qualities do you look for when recruiting new talent?
What does the future have in store for your firm? Do you plan to grow or are you proud to offer a service only a small business can?
Do you have anything you would like to add/ Anything you would like the writing team to mention or focus on in the write up? Feel free to add any details here that you feel were missed by the previous questions.
Again, these are good question you should answer even if you're not nominated for any award. For us answering these questions took an hour and a half.
They then provided the draft of the article based on the information we provided to them and sent it to us for review. The article was pretty ok so the suspicion on the award process by Corporate Vision being fake was not on top of our minds at this point. We made some edits on the article text and sent the updated version to them. We then sent them our logo, some photos and the article was finalized. As we accidentally missed a deadline, our article initially displayed a photo of lawn mower (sic!) which apparently qualified as a "relevant stock image" in our case. They did replace it at our request after some delay. Some time later we received our crystal trophy which got stuck in customs. The customs declaration cost a whopping 2 euros.
Research on the company behind the awards, Corporate Vision
In my quest for finding out whether Corporate Vision is handing out fake awards, I did additional research on this topic. In particular, I googled the postal address "Suite F, The Maltsters, 1-2 Wetmore Road, Burton-on-Trent, Staffordshire, DE14 1LS" and rather surprisingly found lots and lots of magazines similar to Corporate Vision, all part of the same company, AI Global Media Ltd. Here are all of that could be found from Google:
Based on cursory look all of these websites and organizations are built using an identical template: they publish fairly ok quality articles, post them to social media, have an email newsletter and have some an awards program - probably very similar the Small Business Awards we took part in. This means that their business model is proven and working, and seems to be based on the money they make from awards.
When I started writing this article I had hard time putting all the events in order. That's because the events weren't actually in the entirely correct order. As mentioned, we received a notification that we had won even before the judges had had a chance to review the supporting evidence we sent them.
Moreover, I never saw a list of the other contenders or nominees. The list of 2021 winners is quite long, but not knowing how many accepted their nomination it is impossible to tell what percentage actually won the award. It is important to note that the awards were never framed as a competition. Instead, the judges would give awards to companies that deserve recognition.
Conclusion - did Corporate Vision awards scam us?
Based on all I've seen and experienced I feel like winning a Small Business Award is as easy as accepting the nomination. Business-vise this would make lots of sense for AI Global Media, as the more winners they have, the more money they make. That said, I have absolutely no way to prove this.
Does that make Small Business Awards by Corporate vision a scam? I'd say no, because you're still getting some marketing exposure and a trophy/trophies in return, and their prices are quite reasonable considering that they have to pay their employees for writing and editing the articles, doing the layout in the magazine, editing images, customizing and sending the trophies etc.
But should you give them your money? I personally would not, knowing what I know now. We did it mainly because we were curious about the whole thing and had money to spare. In the end we did not get any contacts from any prospective customers thanks to our featured article, so the marketing value of winning was, in our case at least, minimal.
What we did get was a small flood of proposals from other companies for being nominated in various "best of <x> in 2021" award programs, some of which had very steep prices (2000-5000€). We bluntly rejected those without even thinking - and so should probably you too.